Financial Planning for High Net Worth Individuals
Living in Spain
A Personal Message from Barry
Growing up in Plymouth was great fun. Canoeing, sailing and surfing went with hiking on Dartmoor, fishing, shooting and learning about the countryside. The Air Training Corps taught me structure, discipline and allowed me to get my glider pilot's licence at age 17.
It was no surprise when I joined the RAF as a trainee navigator at age 18. Whilst I passed Officer Training, I didn't pass the navigator training. With hindsight it was a very fortuitous event. Changing branches in the RAF led to me being trained as an accounts officer. Other RAF roles quickly built my life experience.
I moved to civilian working and the RAF training and experience proved invaluable. It still does. At 26 I started my first IFA business with the help of a gruff but excellent mentor. I have never looked back. Helping, guiding and advising people turned out to be interesting, rewarding and satisfying. Tax became an interest rather than a bore. How technology can help humans became a lifelong fascination. The internet was used extensively when it became available.
After selling my business, and having previously completed an MBA at Warwick, I did a short stint on a consultancy basis helping three major UK and Irish insurance companies. The brief was to show them how the Internet would impact their people, processes and profit.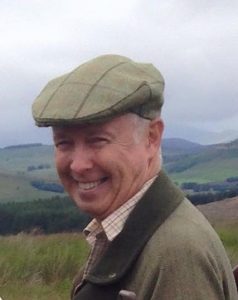 Barry – In the Scottish Highlands
After a difficult health problem for one of my daughters, we moved to the Highlands of Scotland. We were back in nature! Canoeing, sailing, fishing, shooting, hiking and now skiing became part of life again.
However, an opportunity presented itself and so my second IFA business followed. Again, technology was a feature to ensure clients were well informed, had access to me and my staff and the ability to manage the element of their affairs I was advising on. It went very well, attracting people of means, including a retired CFO of a FTSE 100 and a Chief Executive of another FTSE 100 company.
On moving overseas, primarily for family reasons, I had the opportunity to join the Spectrum IFA Group in Barcelona. After research and meetings I came to the view that this was a company with a methodology similar to how I had run my business; with concern for the client, within regulatory norms and for long term relationships with people. And here I am some 17 years later.
Professional Biography Barry Davys
Name:
Barry Davys
Phone:
+34 645 257 525
E-mail:
barry.davys@spectrum-ifa.com
Office address:
Passeig de Gracia 63, 08008 Barcelona
"What I appreciated most was Barry's transparency—he made it clear that, due to my current financial situation, his services would stand to benefit him/Spectrum more than me. He recommended that I get back in touch after I've reached a couple of other milestones. Many other advisors might have tried to take advantage of the situation, but Barry clearly puts the customer's interests first.
Thank you Barry!"
Barry is well known in Barcelona and the Costa Brava for his financial expertise. In particular his knowledge of Spanish and UK tax systems and how they fit together.
He is known for solving problems for international people in Spain such as:
I am about to receive an Inheritance. How do I report it, how much is the tax and how should I invest that inheritance?
I have retired to the Costa Brava but I have just found out my ISAs are taxed. What should I do?
I have sold my house in the UK, what do I do with the money? Should I buy a property in Barcelona?
I have just sold my business and I have never been in this situation before with so much money. Can you help?
I am about to buy a house in Spain. What is the best way to bring my Pounds into Euros?
I am moving to Spain, can you help with a Visa such as the Golden Visa?
Or worryingly, will I run out of money?
Listening to you and identifying what makes your situation unique to you is the starting point for Barry. With 28 years experience in financial services, his qualifications and his time as an RAF accountant he then gives options and solutions. He successfully ran a business, invested unsuccessfully in a startup and was a non executive director of a company spun out of Dundee University. He understands business and business owners problems and gives solutions.
Cashflow modelling software with real data on investments which includes falls in markets. These include the drops in the market that gave us goosebumps, such as the 50% fall with the Covid pandemic. The model is personalised for you. Why is real data important? With that type of event built into your model you can check your financial position is not going to be compromised. Even if it happens again. This modelling can provide great reassurance.
Barry takes the time to discuss and explain risk. He has a Guide to Investment Risk which covers the specific type of risk for six different investments. Tax is explained as simply as possible. The impact of tax on your situation is assessed. Planning strategies invariably include tax. Inflation is discussed. The impact on individuals and their family is highlighted and solutions offered.
This complete approach can lead to some wonderful improvements in people's financial life, including piece of mind. Here is an example of how this complete planning approach helped someone living in La Costa Brava.
If you wish to see how Barry might be able to help you, drop him an email at barry.davys@spectrum-ifa.com
Download our guides below
| | |
| --- | --- |
| Specialist areas: | Financial Planning for High Net Worth Individuals and Business Owners, Beckham Law, Inheritance Tax planning and QROPS |
| Expat since: | 2006 |
| Family: | Two grown up daughters |
| Hobbies: | Hobbies include walking, fly fishing, tennis, padel and golf. |
| Interests: | The impact of the 4th industrial revolution on investment portfolios and the opportunities for people's wealth management. |
#FinancialAdviserBarcelona #FinancialAdviserCostaBrava #TaxEfficientSavingsinSpain #wealthmanagementBarcelona